Travel
The Ultimate Guide to the Kareri Lake Trek for Backpackers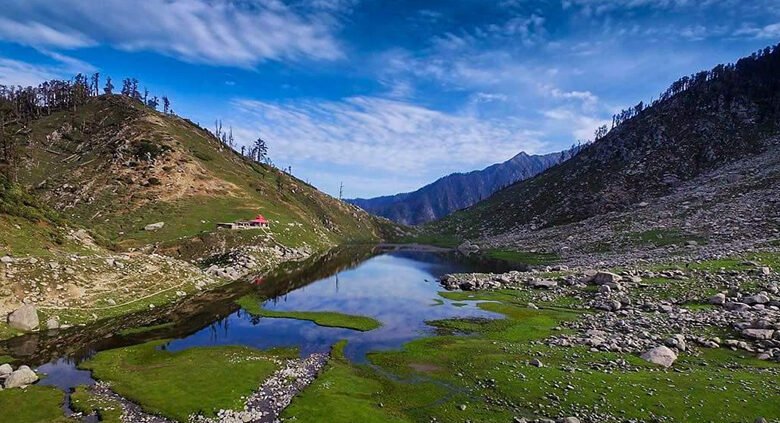 The Ultimate Guide to the Kareri Lake Trek for Backpackers
INTRODUCTION:
Kareri Lake, also known as Kumarwah Lake, is located 9 kilometres from Dharamshala in the
Dhauladhar range. At an elevation of 2,934 metres, this shallow lake is a freshwater glacial lake that makes for the most picturesque setting.
The water is crystal clear, and you can see the lake bed in most places, which is a wonderful experience in and of itself. The reflection of the sky over the lake is another gorgeous aspect of it.Kareri Lake is a scenic outdoor activity surrounded by beautiful mountain ranges. The hike takes you through many waterfalls and gushing streams, as well as contrasting meadows. There are also shepherd villages for additional visual pleasure, which add to the charm. As if that weren't enough, the birds of the area will serenade you along the way.
Kareri Lake is a beautiful, off-the-beaten-path trail that makes for a lovely weekend adventure.
The Kareri Lake Trek
You'll be surrounded by beautiful bird species as you travel through lush green mountains where you can fully appreciate the subtropical pine forests. The water in Kareri Lake comes from glacial melting and water bodies from the Dhauladhar range's Minkiani Peak. The stream is known as the Nyund river, and it will be your companion on the trail.
While this lake does not see a lot of tourists, I believe that is part of what makes it so appealing. Because of the abundant and extensive pastures near the lake, this location is a favourite of the Gujjars and Gaddis from nearby villages. You'll be able to enjoy and soak in the stunning dense conifers and some unique perennial flowers on your trek.
When is the best time to visit Kareri?
While the lake is frozen for the majority of the year, the beauty and serenity of the lake during the winter months are also worth experiencing. However, if you're looking for peace and quiet in the winter, Kareri has you covered. From March to July (pre-monsoon season), and again from September to December (before frigid temperatures), makes for an excellent weekend trek.
It is best to avoid the monsoon season because mountain navigation can be difficult during this time.
Getting to Kareri Village
Kareri village is about 27 kilometres from Dharamshala. Taxis can be easily summoned from Dharamshala, as well as Bir, Palampur, and other major towns in the region. It will take you 1.5 hours to get from Dharamshala to Kareri. There are numerous ways to travel to Dharamshala.
However, I must warn you that, for any hill station you intend to visit, travelling by road is almost always the most convenient option. However, train and air connections are available, even if some of your travel will be by road.
The closest airport is Air Gaggal, about 13 kilometres from Dharamshala.From Delhi, flights are operated by Spicejet and Air India. However, flying into Chandigarh Airport, which has better connectivity than this small Himalayan airport, may be more convenient.
Dharamshala is approximately 275 kilometres away from Chandigarh. You can take a taxi, a self-driving car, or a bus from Chandigarh to Dharamshala.
By train
The closest rail station is Pathankot, which is 85 kilometres from Dharamshala. You'll arrive here after an overnight journey. Many trains bound for Jammu and Kashmir stop here. You can hail a cab or take a bus from Pathankot.
By Road
Dharamshala is well connected to Delhi by road, and the journey will cover a distance of 525 kilometres from ISBT. If you're taking a bus, make it an overnight trip so you have an extra day to enjoy your time in the Himalayas.
The trip from Delhi to Dharamshala will take about 13 hours. I must, however, inform you that certain buses will take you to McLeod Ganj. This location is closer to the start of your journey.
Common Itinerary – Day by Day Schedule
This two-day trek will take you through lush green mountains to a wonderfully secluded lake with spectacular views. The trek is generally manageable, with the exception of the final stretch to the lake, where the trail is not well defined. This trek is easy-moderate in difficulty, in my opinion.
Day 1: Rioti Village to Kareri Village
It will take you 5 hours of trekking today to reach your overnight camp. The path is easy to follow because the local villagers have laid down steps and stones to mark the way. However, keep in mind that the trail can be quite steep in places.
Rioti to Kareri Lake on Day 2
You must start early in the morning. It's going to be a long day, so save as much daylight as you can. The deep forests will give way to rocky grasslands along the Nyund river (nallah?) in the second half of the trail, which will serve as your guide for the remainder of the route.
Because the lake is so close to the snow line, you'll face some difficulties during your final push.