Lifestyle
Why hiring a professional carpet cleaner is better than a DIY?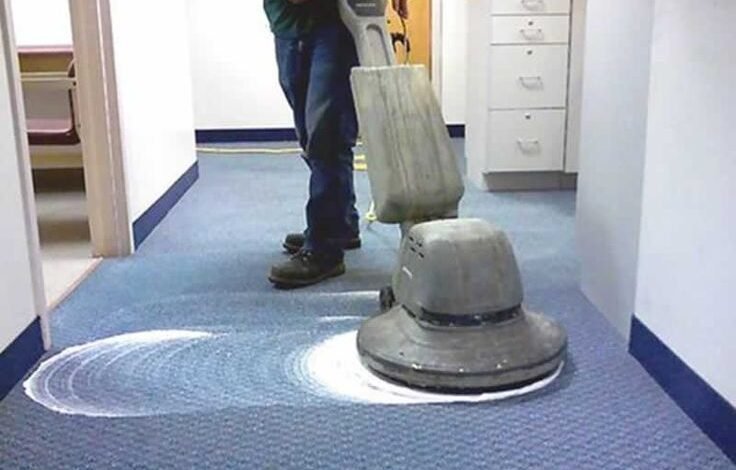 Commercial building cleaning services give advantages such as carpet cleaning because you cannot do it alone. See how a professional carpet cleaner is better than DIY. 
People prefer to live in a neat, clean and healthy environment because it's hard to live in a dirty room. When your surroundings are dirty and not tidy, it makes you uncomfortable. Dirty floors and carpets are things that people cannot tolerate because of health and allergy issues. According to the carpet and rug institute, a carpet is just like an air filter because it traps the dust and pollen particles and keeps the pests out of the breathing zone until you vacuum them. So your carpet needs time to time cleaning. Carpet cleaning is a task you can do by yourself but if you need perfection, seek commercial building cleaning services.
Carpet cleaning is important because the dust particles in a carpet may trigger your allergy, such as dust allergy, so the best you could do for your health and your carpet is to clean it. You can do it yourself but hiring a professional carpet cleaner is more suitable. It would be best if you had a professional cleaner for many reasons, such as it takes a lot of energy and time to clean carpet by yourself. Additionally, professional cleaners have the proper equipment and techniques, making the whole process easy.
Professional carpet cleaner Vs. DIY
Commercial building cleaning offers so many services for your home and office. Carpet cleaning is not as simple as it seems; it requires effort and time. It also requires proper equipment and machines, so it is better to hire a professional than DIY. Here are the reasons why hiring is better than cleaning the carpet yourself.
· No water damage
Cleaning carpet needs special cleaning machines and steam equipment to remove water from it. These cleaning machines can move carpet and has water holding capacity. When you do it yourself without proper equipment, it might be possible that the carpet stays wet. Professionals do not do this; they remove water from the carpet and then dry it because if they leave water in the carpet, it will damage it.
Professionals are Skillful
Cleaning the carpet is not easy for you as you have to clean the caret by using machines. And when you are doing it at home, you may use small machines, but carpet cleaning needs heavy machines. That's why you need professional assistance. These professionals are skilled in their area and know how to handle it carefully without damaging your carpet. And yet they deliver quality results because they know the technicalities of the cleaning process.
When you need to clean the carpet, you must arrange a time for it. And it's not easy for you to take time out of your busy schedule. And also you need to buy some machinery or equipment for it and yet there is the possibility that you might not do it properly. If you are renting this equipment, you have to bear its cost and learn how to use it. So if you want to save time and money, hire a professional instead of doing it yourself. This professional will surely give you satisfactory results.
Carpet type understanding
Carpet has different types, designs, and shapes. Every carpet uses different materials, so they need a different type of cleaning. A layman has no idea about it, so your carpet's long life needs to care for it with a handle. The professional cleaner knows how to clean carpets despite their type and material. And at the end, you will notice no damage on the carpet. But if you do it yourself, you might damage it, affecting your carpet life.
· Clean every part of the carpet
It is difficult to clean carpet if you have a small space in the house or office. Because the area is small and you cannot move carpet everywhere. And it affects the cleaning process. When the space is not enough, it might be possible that your carpet left some unclean area. But if you hire a professional cleaner, they clean every part of the carpet because they have experience and proper equipment. So do not waste your energy and hire a professional.
Hire the best for your carpet
Everyone needs a healthy and tidy environment. Because everyone has health concerns and they want their environment to be perfect. Likewise, every person needs to have a clean house and carpets. Commercial building cleaning services allow you to take advantage and hire a carpet cleaner. Cleaning carpet is a simple yet complex task requiring heavy machinery and equipment and some technical expertise because every carpet is different from one another. And every carpet uses different material. So they need equipment according to that material.
Doing it yourself is also an option, but for this, you need to buy or rent out some machines. You also have to bear the extra cost as you need some learning about how to use it. It takes time and money, so the best you could do for your carpet is to hire professionals to clean it.